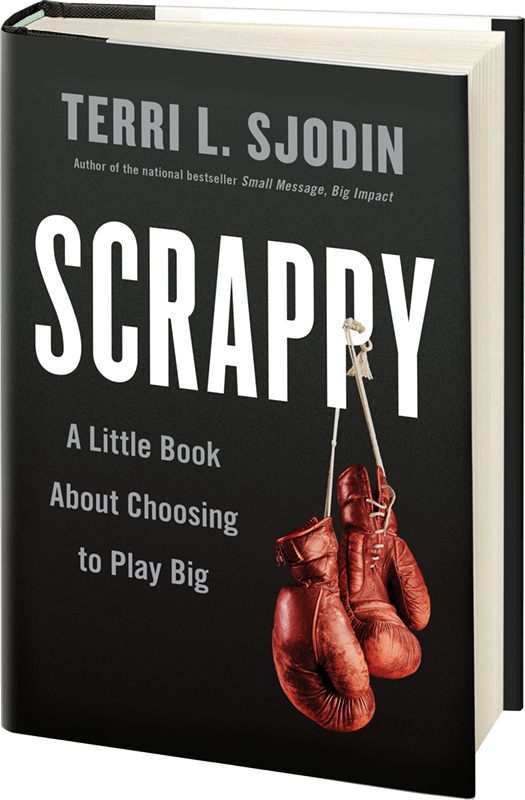 "Scrappiness" is a term that is easier to recognize in action than to define. To describe someone as scrappy is to describe a person who fights against the odds and manages to come out victorious against opponents or obstacles that are much "bigger" in some way than he or she might be. Terri Sjodin's latest book, Scrappy, is filled with stories of such battles, as she explains to her readers exactly how and why being scrappy works.
For Sjodin, scrappiness is a combination of three elements: attitude, strategy and execution. The first required step to being scrappy is attitude: a mindset in which people recognize the bruises and pitfalls that might lie ahead, but decide to go for it anyway. For example, Sjodin tells the inspiring story of health club owner Susan Sly, who was struck by a diagnosis of multiple-sclerosis, a husband who leaves three days after the diagnosis and the loss of the health club due to unpaid taxes. Despite her illness, the single mother fought back and became one of the most successful sales producers for the Bally Fitness chain.
Successful scrappiness is about attitude, explains Sjodin, but it's also about having the right strategy. In the second section of her book, Sjodin describes how to develop a strategy that is bold and somewhat risky without being reckless. Brian Palmer, president of National Speakers Bureau, was trying to land the business of an executive vice president at a large financial-services company who was unmoved by his approaches.
Finally, a mutual friend shared a conversation that she had with the EVP, who told her, half-seriously, "Brian Palmer doesn't suck up enough!" Palmer decided to send a newly bought dustbuster to the prospect, explaining that he didn't mind sucking up, but if he was not available, his dustbuster would take care of the sucking up. The move might have fallen flat but didn't: The EVP loved the humor (and gumption), and Palmer started getting speaking gigs for his speakers.
According to Sjodin, scrappiness can range from big, bold moves to small gestures. To be scrappy is to have creative, often (but not always) humorous approaches to a problem, combined with a certain fearlessness. For example, rather than turning to online dating sites, 36-year-old serial entrepreneur Jennifer Matthey Riker decided to try a different tack: She took a part-time job (which she did not need) in the men's department at a local Nordstrom's. One day, she locked eyes with a man cutting through the store, and the two have now been married 13 years and have two children.
Once you "decide to go" and have developed a strategy to achieve what you want, the final step is to execute the plan, Sjodin writes. One of the important decisions is to determine when to launch. Timing can often make the difference between success and failure.
Another recommendation of Sjodin's is to…(click here to continue reading)